Want more like this in your Inbox? Leave your details below.
Exploring screen music and the talent behind it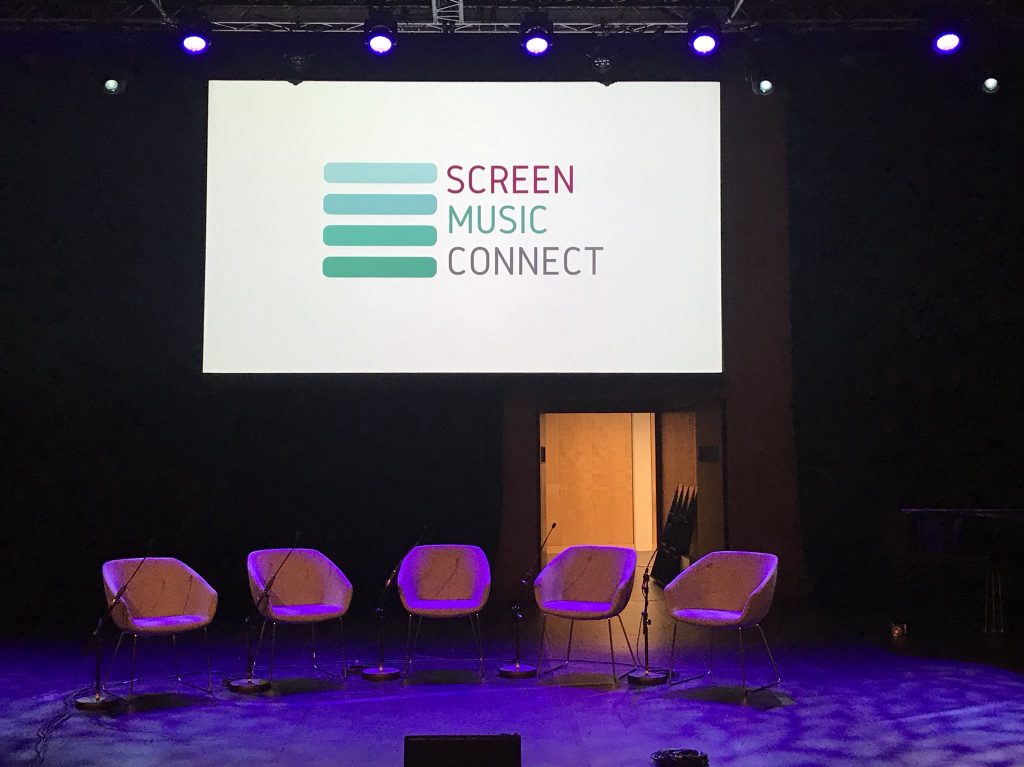 Screen Music Connect evolved from an event I went to a couple of years ago called Game Music Connect. They've now expanded it to cover all screen music rather than just games. The event was founded by award-winning composer James Hannigan and is aimed at the music production communities of all media industries – from pro to amateur composers and anyone with an interest in the evolution of screen music. We were welcomed to the event by John Broomhall; music director and composer on games such as Transport Tycoon and X-COM/UFO: Enemy Unknown.
Keynote Address
The keynote address was the first talk of the day and was presented by the talented Christian Henson who is a multi-award-winning composer and also a co-founder of Spitfire Audio. I felt like this first session was used to put all the composer's minds at ease with the simple statement that AI won't be taking our jobs. Until AI gains the ability to understand empathy and nuance, which is an incredibly long way off, we're all safe. Christian's point was that AI is binary and humans aren't so there'll always be a need for the human element to get the results you desire.
When Worlds Collide: Classical Music And Soundtracks
This next talk was a panel discussion between leading industry figures including:
Speaking about the exciting yet different opportunities for composers within the film, tv and gaming industries with @jessicacurry2 @rpoonline's James Wilson, @COOLMusicLtd's Darrell Alexander @PhilipSheppard & @ClassicFM's @nelsonjenny pic.twitter.com/5J0fWwAWIR

— BASCA (@BASCA_uk) September 24, 2018
The discussion was very interesting because it really was musical worlds colliding. The panel guests looked at how classical music, film music and game music blur the lines so much as to render the term 'classical' meaningless in the modern age. The conclusion seemed to be that the word classical has a lot of stigma around it which on the one hand can appeal to people who enjoy the tradition and ceremony of the genre but on the other hand can easily put people off even listening to it. The term the panel preferred to use was orchestral music as that could cover a whole range of works without alienating people. The trouble of getting classical traditionalists to embrace the world of film and game music still persists, though, and getting them out to live performances of said music is very difficult. Niching down may be the answer to this but that could also cause more of a divide in the music scene when we'd ideally like to bring classical, film and game music together.
To finish this talk, we were treated to an amazing performance by Philip Sheppard playing Kara's Theme from the game DETROIT: Become Human. This perfectly emphasised his idea that we are living in an experience economy and that concerts are about much more than just the music. We weren't allowed to film or take pictures inside the hall so here's a previous version that was filmed for PlayStation.
Career Management – Key For Success
After a short break, we were back in the room and ready for another talk. With such a great host of speakers, it would be a shame not to get some career advice from them. They brought personal insights from their own career journeys and highlighted key factors that they think might help media composers navigate the film, TV and video games businesses in order to build a successful career. The speakers for this panel were:
The first piece of advice given to us was to be the finest composer you can be and to stop trying to copy other composers. While it's great to learn other people's techniques and study their scores, you need to make sure you combine all that knowledge to sound like yourself. Why would someone hire you over the 100 other composers that sound like Hans Zimmer copies? And if they have the budget, why wouldn't they just hire Hans himself? You need to make sure you stand out and be the best you can be by putting in those 10,000 hours. People are looking for unique ideas rather than a long list of credits so don't worry if you haven't got that feature film yet.
The next piece of advice they gave was that you should always aim high with your career. Aim for the place you actually want to get to so you can start drawing a map to get there. It's really tough to move in your career once you get known for a specific thing. You might not want to be the TV drama composer any more, you might want to explore the realm of music for horror games but don't get the chance because everybody knows you as the TV drama person. This is why you should aim for what you actually want to do so you can get their faster and with focus.
A great tip that a lot of people online should take notice of is that your integrity is everything. It was shocking and hilarious to hear stories of composers who had lied on their credits and claimed they'd written a score for a project that the person interviewing them had actually written the score for. With the internet, you'll easily get found out. Your integrity extends to the way you behave online and in real life too. Don't post horrible tweets in a fit of rage that will come back to haunt you in a years time. The best advice is to just be a decent human being.
The panel went on to discuss that the music business has two parts to it; the music and the business. A lot of us composers don't like the business side of things but it's very important we learn it as soon as we can. We have to get comfortable with networking and meeting the right people. Find out who the decision makers are, take an interest in them and then seek them out once you feel comfortable with your skills as a composer. If you don't meet the right people, it'll be a real struggle to get further in your career. We were told to make sure we learn the copyright side of the business too so we know what we're doing when it comes time to negotiate.
One final piece of advice they gave was to surround yourself with the best people possible. This means if you're doing a project, get the best players you can afford and have the best people work on the project with you. This goes for your personal life too. Positivity and enthusiasm are infectious so try to have the best people around you every day and remove the negative people from your life. It sounds simple but removing negative influences can be extremely difficult, especially if they're an old friend. The best people will elevate your music and your life.
9 top tips for composers from @COOLMusicLtd's Darrell Alexander, @Richard_Jacques @drumastersmusic & @JohnBroomhall pic.twitter.com/EuZEZfqV4n

— BASCA (@BASCA_uk) September 24, 2018
Artificial Intelligence In Music: Can Computers Be Creative?
The speaker for this next talk was Ed Newton-Rex who is a composer and is the founder and CEO of Jukedeck. Jukedeck uses AI to create music that can be used in things like vlogs and documentaries. He gave us some insight into the current abilities of AI and where he thinks we're headed with it all. His main message in this talk, which was echoed the earlier talk, was that AI will be used as a tool rather than replace composers. The AI they use at Jukedeck uses neural networks as an attempt to build something that works like a simplified human brain. AI is very good at things that are binary and have a true or false answer but music is so subjective that it becomes difficult to effectively train it. Because of this subjectivity, you'll still need a human standing by to say whether the produced track was good or bad.
So what does this mean for the future? It means AI is coming whether we like it or not so we should be armed and ready with the knowledge on how to use it. Ed said that art is more than the work itself. Humans crave stories and an AI just doesn't give you that story, only the end result. It will be great for helping to create background music and in the future may be able to compose wonderful pieces by itself but people will always be creative and so will always make music no matter what. He saw the AI being used in the same way as we use autocorrect now. It could suggest ways in which to improve our composition and warn us when we might be doing something "wrong" in our music. In other words, AI could help us be more creative, not less and it's only the middle ground of mediocrity that artificial intelligence will really be able to replace.
The Story Of Interactive Music – Past, Present And Future
On this panel we had:
.@JohnBroomhall leading a discussion on the evolution of interactive music – looking at changing vales, functions and growing ideas around realism, storytelling and emotion in gaming pic.twitter.com/N3rX5YVRrB

— BASCA (@BASCA_uk) September 24, 2018
This talk was centred around the origins of video game music and how it evolved into what we have today. The main difference between music for film and music for games is the dynamic and interactive aspect of it. In a game like the original Theme Park, the flow of the music was directly linked to how busy the park was. We've always wanted to link music to game states and technology has come far enough that we now have unlimited opportunities to do that.
After the first iteration of games came out, Headhunter was one of the first that made Hollywood take notice because it used a real orchestra in the soundtrack. We take it for granted now but having live musicians play on the game meant a lot more emotion could be conveyed to the player. Because it's so easy to create interactive music now, we were warned by the panel that we shouldn't make something interactive just for the sake of it. Good interactive music starts with meaning and purpose. You need to figure out why the music should change when it does and how that will elevate the player's experience. Game music has always taken risks and composers have tried new things. This is still the case as the rules for video game music haven't actually been written yet. We just go along with what we think will work but we should remember that we can always come up with new ways of writing and implementing the music.
The panel finished off the talk looking at the future of music in games. In larger budget and AAA games, there's more risk so the ingenuity and surprises are likely to come out of the indie scene. They suggested that perhaps in the next era of consoles that samples and instruments will be triggered in real-time by the actions the player makes. This would be incredibly flexible as it would be down to the console what MIDI notes fire off and when. This would create an almost endless amount of variations on a single game soundtrack which would alleviate the tired ear syndrome you can get if you play a game for 5 hours straight. When it comes to scoring a game yourself, the panel gave great advice saying you should talk to everyone you can who's on the dev team. Every nugget of information can help create inspiration and will inform you on how to score and implement the music, even on a level by level basis. The main thing to remember is that music doesn't have to be complicated, it just has to work in context.
Creative Partnerships In Film, Television And Games
This was the final talk of the day and had the following people on the panel:
They discussed the role of collaboration in music and how important it is. They mentioned how much joy you can bring each other when collaborating but warned that it's also really easy to hurt each other when you're working so close and are so emotionally invested. You'll also find that you'll be working with non-creative and non-musical types so it's important to learn how to communicate with these people. If they want something to sound more "orange" then don't be afraid to delve deeper and try to get some more details out of them. In terms of working with a director, they said that their role when it comes to music is to act as a filter for the composer so that they only have to deal with things they need to know and can spend the rest of the time focused on the creative side of things. This isn't something I'd thought about before but it makes a lot of sense. In my current role, my boss acts as a filter from the higher-ups so I don't have to hear anything that doesn't directly affect me or my role.
The final tip was from Jessica Curry and was about revisions. A client may ask you to keep changing stuff and make endless revisions that you don't agree with. If there isn't a limit in your contract to the number of revisions then you should try to make them as small as possible but describe them as well as possible. A second listen by the client with a detailed description alongside can go a long way with them being happy with the sound. If you make large changes, expect to make a lot more as the client will probably never be fully satisfied.
If you attended the event, you might have noticed I missed out a whole talk and that's because I was too busy being encaptured by it to make notes. Andrew Collins interviewed Debbie Wiseman OBE and we were incredibly lucky to witness her perform her own compositions on the grand piano they'd wheeled on stage. Debbie is a composer, conductor, and Classic FM's composer in residence.
---
And that's it. That's everything I learned at Screen Music Connect 2018. It was great to catch up with some familiar faces and to meet some talented new people. I'm looking forward to putting everything I've learned into action and hope to work on some exciting projects in the future.
You can follow me on Twitter at willhelliwell1